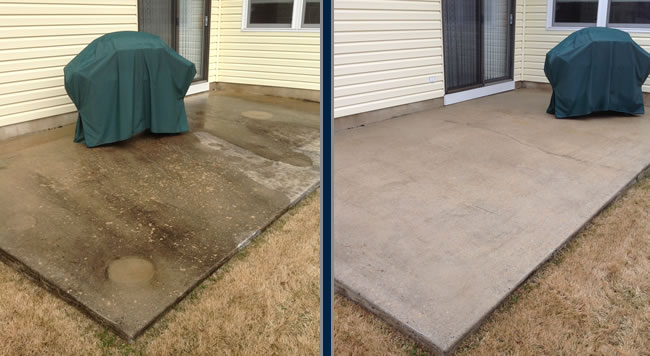 Concrete Driveway, Sidewalk and Patio Sealing
We specialize in sealing all of your concrete surfaces
Cleaning and sealing your concrete is good insurance for keeping your concrete in good shape.  A good concrete sealer will make your concrete more resistant to weather exposure from rain and snow, help it resist oil and fuel stains and also protect it from deicing salts.  Not only does a concrete sealer protect your concrete but it can also enhance the appearance of your concrete and make it much easier to clean.
Michael White Painting & Coatings is a full service exterior coatings contractor serving the Central New York area.  We specialize in power washing and sealing concrete surfaces around your home or small commercial property.  From sealing your concrete driveway to your stamped concrete back patio, pool decks, pavers, brick, walkways, sidewalks and more the team at Michael White Painting & Coatings will have your concrete surfaces looking beautiful once again.  With over 27 years experience in the exterior coatings industry your concrete will be in good hands!
Concrete Cleaning and Sealing in Central New York
Concrete driveway sealing
Concrete patio sealing
Pool deck sealing
Decorative and stamped concrete sealing
Paver and brick patio sealing
Broomed concrete cleaning and sealing
Concrete coloring and staining
Important Note:  Before applying any type of sealer or stain to your concrete the surface must be meticulously cleaned.  Failure to properly remove the existing dirt, grime, oil, and other contaminents from your concrete prior to sealing will result in poor adhesion and you will not be happy with the results.  Make sure anyone sealing your concrete includes a thorough cleaning as part of their estimate.
Types of Sealers That Can Be Applied To Your Concrete
Pure Acrylic Sealers:  Because of their availability and affordability we often get requests for acrylic sealers.  This type of sealer is  very popular for exposed aggregate because it offers good protection, enhances the color and provides a nice looking high gloss finish.  The downside to acrylic sealers is they aren't as durable as other products and generally only last for 24-36 months before they will need to be replaced again.  If you're looking to get a home ready for resale then an acrylic sealer might be a good choice.
Penetrating Sealers:  A penetrating sealer works below the surface of your concrete to seal and protect it.  These finishes work on all types of concrete surfaces from a regular broom finish to exposed aggregate and even stamped or decorative concrete.  Unlike an acrylic concrete sealer a penetrating sealer will not change the look, color or traction of the concrete.  Providing a more durable finish when properly applied you can expect a penetrating sealer to last anywhere from 3-7 years.
Coloring Systems:  Concrete isn't that difficult to color if you'd like to have your concrete finished to match your home or other elements in your exterior decor then please contact us for a custom consultation.  There are a variety of colors, stains and dyes available to give your concrete that custom style you desire.
All Concrete Sealing Projects Include:
On-site visit to go over your project.
Sealer consultation so you understand the product.
Pressure washing and preparation of surfaces to be sealed.
Meticulous site preparation and protection of areas not to be sealed.
Application of sealer.
Job walkthrough with you.
Final details and finishing work.
If you've got a concrete sealing project for your home exterior give Michael White Painting & Coatings a call and we'll come out and give a competitive estimate along with some friendly and helpful advice on your project.
We understand that you have many choices when it comes to a concrete sealing contractor to seal the concrete on your Central New York property. We just want you to know that when you choose Michael White Painting & Coatings for your house painting needs you are taking on a motivated partner in making your home look better!
If you'd like to schedule your estimate or consultation for your concrete cleaning or sealing project call: (315) 797-9010 or fill out our online contact form and we'll get right back to you.