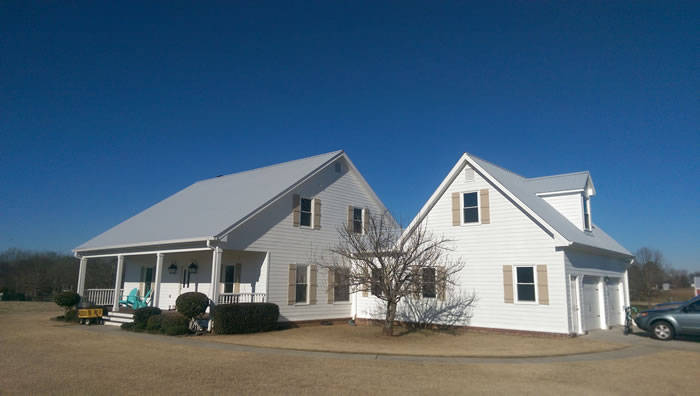 Do You Need Your Fiber Cement Siding Painted in Central New York?
We specialize in prepping and painting all brands of fiber cement siding.
Fiber cement, Hardie Plank, Hardieboard and other names you might have heard all describe essentially the same product.  Fiber cement siding.  Most fiber cement siding comes unfinished from the factory (with just a coat of primer) and must be painted to match the decorating tastes of the home or building owners who are installing it.  Painting fiber cement siding so it lasts and looks good for many years is a good job for a professional painter with experience painting this type of siding.
If your siding hasn't been properly painted the finished might last 3-5 years, compared to a professional finish which could easily last 10 years.
Michael White Painting & Coatings is a full service exterior painting contractor with over 27 years of experience.  Serving the Central New York area.  We specialize in painting and/or repainting fiber cement siding of all types on residential structures and construction projects such as homes, townhomes, garages and other out buildings.
Fiber Cement Siding Painting and Repainting Service Central New York
Fiber cement siding painting
Fiber cement siding repainting
Hardieplank siding painting
Important Note:  If not properly coated, cement-based siding products can become mildew magnets. A high quality exterior acrylic masonry primer will fortify your fiber cement siding's mildew and efflorescence resistance.  When repainting fiber cement siding the surfaces must be pressure washed so they are free from any dirt, debris, flaking or failing paint and other contaminants.
All Exterior Fiber Cement Siding Painting Projects Include:
On-site visit to go over your project.
Color consultations until you're happy with the choices.
Pressure washing and preparation of surfaces to be painted.
Meticulous site preparation and protection of areas not to be painted.
Application of any base coats or primers. (if needed)
Application of top coats and trim or accents.
Job walkthrough with you.
Final details and finishing work.
If you've got a fiber cement siding painting project for your home exterior give Michael White Painting & Coatings a call and we'll come out and give a competitive estimate along with some friendly and helpful advice on your project.
We understand that you have many choices when it comes to a house painting contractor to paint your fiber cement siding in the Central New York area. We just want you to know that when you choose Michael White Painting & Coatings for your house painting needs you are taking on a motivated partner in making your home look better!