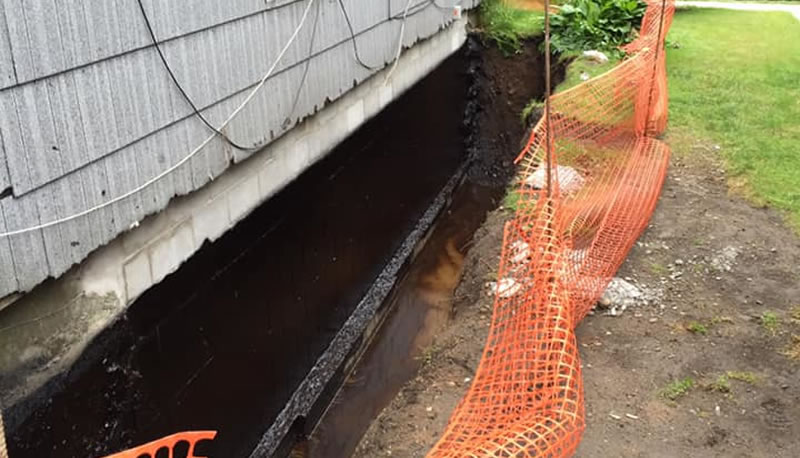 Foundation, Basement And Masonary Waterproofing
We specialize in waterproof coatings in Central New York
Do you have water seeping into your basement through the concrete walls or foundation?  The first step is trying to find out where the water is coming from.  Do you have cracks in your basement walls?  Is your foundation cracked?  Do you have drainage problems around the perimeter of your home?  Maybe it's a combination of several factors!
Michael White Painting & Coatings is a painting and coatings contractor based out of New Hartford NY and serving Central New York.  We specialize in solving basement and foundation waterproofing problems.  If your basement is leaking, smells musty, and has too much condensation, then let us help you!
Concrete foundation waterproofing
Masonary block and brick waterproofing
Exterior waterproofing solutions
Basement waterproofing membranes
Waterproofing underground tanks and containment systems
Exterior or Interior Waterproof Coatings – Which is Best?
This really depends on your particular situation and in order to give you a clearer picture of what's going on we'd need to come and inspect your home so we can take a look at your basement, your drainage, and we'll be able to tell you which method will be best for you.
Why Choose Michael White For Your Basement Waterproofing?
We realize that you've got many choices when it comes to choosing a waterproofing contractor in our Central New York service area. We want you to know we understand and appreciate the commitment you are about to make to your home and we take it very seriously. When you choose Michael White you're choosing a partner in making your home a better place!
If you'd like to receive an estimate to waterproof your basement or foundation please give us a call (315) 797-9010 or fill out our contact form and we'll get right back to you.