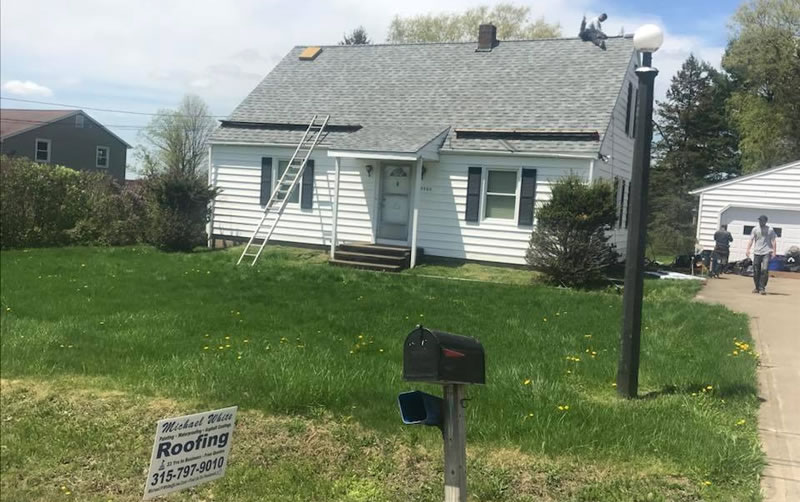 Roof Inspections in Central New York
We'll find out what's wrong with your roof!
Do you think you might have a problem with the roofing on your home or building? Have you noticed a leak that has developed recently or other signs that your roof might need to be inspected for damage? Maybe your shingles are old and worn out? Maybe you have ice dam problems in the winter and early spring?  Maybe your roof has been damaged in some severe weather?
Michael White is a full service residential roofing contractor based out of New Hartford New York and serving the Central New York area.  We offer complete roof inspection services for homeowners and managers of multi-family structures such as condos and townhomes. If you believe there is a problem with your roofing system and you'd like to have an expert roofer provide you with their opinion please give us a a call (315) 797-9010 and we can send someone out to your location for a roof inspection.
Using our extensive installation knowledge helps us understand how a roofing system is supposed to be installed and how it should perform. Many times during our roofing inspections we spot issues with a roofing system that probably could have been avoided if the original roofing contractor didn't cut corners. Whether your roofing has been damaged due to wind, rain, hail, or ice dams, or you just feel the roofing shingles are old and no longer performing as they should the team at Michael White will be able to help you and provide our expert opinion on the condition of your roof.
How Often Should You Inspect Your Roof?
It's a good idea to have your roof inspected annually or at the very least every couple of years so you can catch potential problems early. Annual roofing inspections become even more important if the home or building you own is occupied by tenants that may or may not be as attentive to your property as you (or us) would be. Any problems with a roofing system can cause very expensive issues to fix further down the road, like water damage and mold.
Your home will benefit from our years of experience with different types of roofing materials and many complex roofing projects. In short, we know exactly what to look for in a roof to help the homeowner avoid expensive repairs or even complete roofing replacements further down the road.
Michael White offers complete roof inspection services for homeowners within our Central New York service area.
What Are We Looking For In A Roof Inspection?
Hail Damage and Shingle Bruising
Abnormal Loss Of Roofing Granules
Wind and Storm Damage
Poor Flashing Installations
Improper Chimney Flashing
Poor Or Inadequate Roof Venting
Rotten Roof Decking
Damage From Ice Dams
And More…
More specifically we're looking for things like roof damage from hail which is incredibly hard to see, yet causes pre-mature roofing wear that is most often covered by your insurance policy.  We're also looking for things like the amount of roofing granules you have in your gutters.  This tells us really quickly what kind of lifespan you can expect from your roof and if there is any support from the roofing material manufacturer.
Michael White takes our roofing inspections a step further. We are the local roofing experts and can help you solve complex roofing problems such as roofing leaks, poor roofing installations, storm damage, poor roof venting, and more. These are very common issues with roofing systems in our area of Central New York.
Michael White Offers Roofing Inspections Throughout Central New York
Michael White is a top rated, highly reviewed, local roofing company that has been serving the Central New York area for over 25 years. Our experienced team of roofers know and understand all of the specifics when it comes to residential roofing systems and how to properly install them and maintain them so they provide our clients with a long service life. If there is a problem with your current roof, we'll be able to find it!
If you'd like to schedule your roofing inspection just call (315) 797-9010 or use our online contact form and we'll get right back to you.