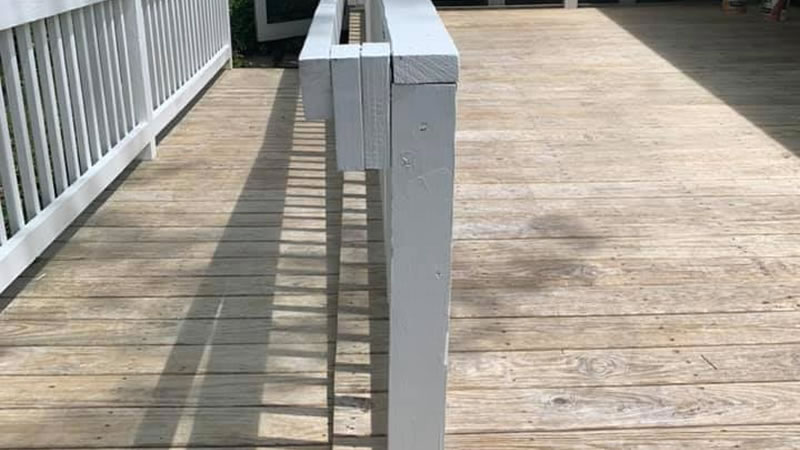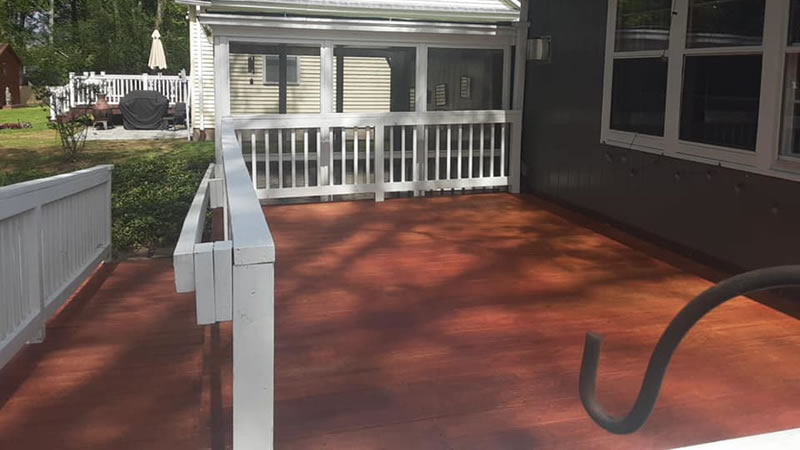 Fence and Deck Refinishing & Staining Services
We can make your fence or deck look like new again
Do you have a wood deck on your property that is beginning to show it's age?  Has the original color or stain begun to fade away?  You've probably invested thousands of dollars into a beautiful deck so don't let your deck deteriorate because the wood is unprotected from the elements.  Refinishing or restaining your wood deck can restore it's natural beauty and add years to the life of your deck.
Michael White Painting & Coatings is a painting and coatings contractor based out of New Hartford NY and serving Central New York.  We specialize in staining wood fences and wood decks.  We can restore your exterior wood surfaces to a like new condition!
Refinishing your deck is much less expensive than rebuilding it but it's still a difficult and time consuming process to do it right.  There are a lot of painters out there doing decks because they money can be fast but it shouldn't be.  Refinishing a deck properly takes care and attention, especially during the preparation to ensure your new deck paint or stain lasts for many years.
Our process for renewing an old damaged deck include:
Cleaning The Deck Surfaces:  Thorough preparation is the key to restoring your wood deck to a like new condition. Depending on our analysis, your deck may receive either a chemical finish remover or a commercial grade cleaning detergent. These professional grade cleaners will safely remove years of failed stain, mold, mildew, and other dirt. A low pressure wash will remove these detergents to reveal a clean wood surface.
PH Neutralization:  This is a step often skipped by many painters but it's important.  Commercial grade cleaners are caustic on the PH scale which changes the chemical of the wood that needs to be painted or stained.  A chemical neutralizer should be applied. This balances the wood's PH making it more receptive to staining.  In addition to preparing the wood for stain, the neutralization process can also act as a brightener, returning the wood to it's natural look.
Deck Repairs:  Wood decks that have been out in the elements for years can have many issues that need to be repaired.  Warped or rotten deck boards might need to be replaced, nails or screws might have pulled and need to be reset, handrails may also need to be set and secured.  We'll include any minor repairs required in our estimate.
Staining Or Painting The Deck:  Once we're finished cleaning, neutralizing, and all of the prep work, your deck is ready for the final step.   Applying the paint or stain!  We apply a high quality oil based sealer to all surfaces, railings, steps, and posts on your deck. All our sealers are commercial quality and resistant to mold, mildew, and water.  Whether we use paint or stain really depends on what products were used on your deck prior.
Why Choose Michael White For Your Fence Or Deck Refinishing?
We realize that you've got many choices when it comes to choosing a painting contractor in our Central New York service area. We want you to know we understand and appreciate the commitment you are about to make to your home and we take it very seriously. When you choose Michael White you're choosing a partner in making your home a better place!
If you'd like to receive an estimate to paint or stain your deck or fence please give us a call (315) 797-9010 or fill out our contact form and we'll get right back to you.